Currently
With a background in computer science and mathematics, and a great deal of good fortune, my life collided with the web in the early 1990s.
For nearly 20 years I've developed software and written books, courses, tutorials, and articles for web designers and developers. I speak not infrequently on all things web in Australia and around the world.
I'm one of the founders of the Web Directions Conferences.
In 2000, I wrote A dao of web design for A List Apart. Described as "A manifesto for anyone working on the web" by Jeremy Keith, and cited as a key inspiration for Responsive Web Design by Ethan Marcotte. It outlined the idea that the Web is its own medium, and we must embrace its characteristics, not decry them as bugs. It's gratifying to have something written so (relatively) long ago still remembered.
Read my detailed bio for some more if you're interested.
Conferences
I'm the co-founder of Web Directions. Our conferences began as grass root events focussing solely on web standards and accessibility, but now cover the leading edge of development with web technologies including HTML5, JavaScript and CSS, as well as web, interaction and user experience design.
Currently our main conferences are
Direction, held each year for the last decade in Sydney, Australia, is a single track idea driven conference at the intersection of design and technology.
Respond is Australia's Web design conference, a single track, two day conference focusing on the challenges, technologies patterns and practices of contemporary Web design. Respond 2016 takes place in Sydney and Melbourne in April.
Code takes place in Sydney and Melbourne, a single track over two days featuring the world's leading Front End Engineering and JavaScript experts.
Transform is a new, single day conference focussing on current practices in the rapidly changing Government digital service delivery arena. For Local, State and Federal Government service delivery experts and decision makers, and agencies and professionals who work with Government to deliver world class service online.
Conference Videos
See videos of some amazing presentations from past Web Directions conferences to get a sense of what the fuss is all about.
Software
For the over 15 years, along with Maxine Sherrin, I ran Western Civilisation pty. ltd. (westciv), a software development company. We publish the successful, highly regarded Cascading Style Sheet development software Style Master, for both Mac OS X and Windows. We have also previously published Layout Master, a tool for developing CSS based HTML and XHTML page layouts, and Palimpsest, a sophisticated hypertext based knowledge management tool.
Online Tools
I continue to develop tools to help developers work with HTML and CSS. At Web Directions Tools you kind find tools to help work with HTML5 Audio, Video, Application Cache, and canvas, as well as CSS 3 transforms, animations, gradients, and all sorts of other CSS3 properties.
I also developed XRAY and MRI, tools to help web developers better understand how their pages work.
XRAY is a bookmarklet for Internet Explorer 6+, and Webkit and Mozilla based browsers (including Safari, Firefox, Camino or Mozilla). Use it to see the box model for any element on any web page.
MRI is a bookmarklet for Internet Explorer 6+, and Webkit and Mozilla based browsers (including Safari, Firefox, Camino or Mozilla). Use it to test and explore selectors.
Style Master
Style Master is the leading cross platform CSS developments software, with tens of thousands of users around the world. It's the oldest, and yet most frequently updated CSS development tool on either platform. Version 5 for the Mac OS was released in May 2009.
Books Developing with Web Standards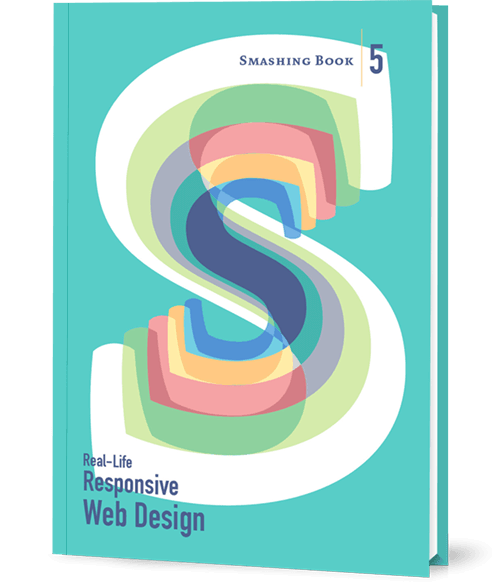 Smashing Book 5, "Real Life Responsive Web Design", features a chapter I wrote on offline Web technology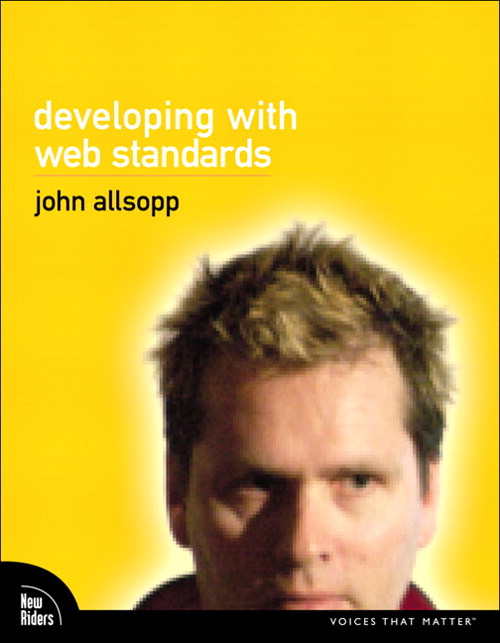 A companion to Jeffrey Zeldman's legendary "Designing with Web Standards", Developing with Web Standards, published November 2009 is a deep technical dive into HTML and XHTML (including HTML5), CSS (including CSS3), the DOM, SVG, Canvas, accessibility and much more. Huge, detailed and comprehensive, for first timers, and web professionals alike.
Microformats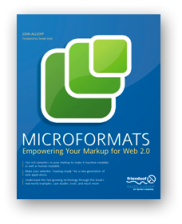 Microformats: Empowering Your Markup for Web 2.0 (yes, it uses the dreaded 2.0 phrase, but as I invented it, I can use it ok!).
Speaking
I am asked often to speak at conferences, and do my best to say yes. Here are some recent videos.
Beyond Tellerand 2014
I was honoured to be invited to speak at the now legendary Beyond Tellerand conference, in Berlin in 2014, 24 years after I had previously visited that wonderful city, the sumer after the Wall came down.
I spoke on Offline Web technologies and practices, as you might guess is something of an interest of mine.
Interview with Unmatched Style, at BDConf
After speaking at the wonderful BDConf, I sat down with the folks from Unmatched Style to talk more about, you guessed it, Offline Web Tech.
Web Directions 2013
The last few years two sets of Web technologies have particularly interested me, the offline technologies and animation technologies. In this presentation at Web Directions in 2013 I talked about the state of Web animation at the time.
Full Frontal 2012
Full Frontal is one of the leading JavaScript developer conferences in the world. I spoke on the continued importance of HTML in a world of JavaScript everywhere.
Web Directions Code 2012
Code is one of our conferences, focussed on developing with JavaScript and HTML5.
Email me if you would be interested in my speaking at your conference or other event.